The fall months bring many changes to our region – most notably we see our seasonal shifts in weather, brilliant fall colors, and of course the annual 'back to school' changes in our local traffic. While we may regret the end of the summer season, we have many reasons to celebrate the transition to the fall.  Our local colleges provide many substantial benefits to our local communities – economically, socially, and philanthropically.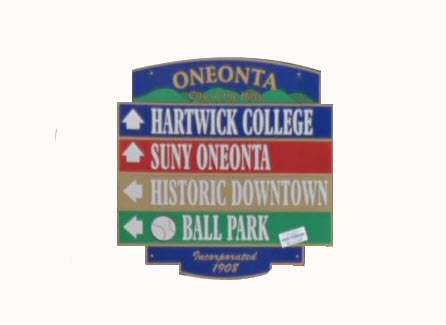 Economic Benefits:
Close to 7500 undergraduate students are enrolled in our local colleges in Oneonta this year (2021).  In addition, SUNY Oneonta and Hartwick College combined employ close to 2000 regional residents in full and part-time positions. This influx of people who live in our area for the better part of the year helps to support our local economy.  Students shop in our local stores, eat at our local restaurants, and visit our area attractions.  There are also economic benefits to the local real-estate market as properties near the colleges are in demand to house both staff and students.  Many campus programs and events are often open to the public and can bring in people from out of the area for a day, or a weekend and sometimes longer, benefitting our lodging businesses as well as other area entities.
Social Benefits:
Our local colleges bring diversity to our communities.  Faculty, staff and students can come to Oneonta from anywhere in the world and enrich our social environment by exposing our community to different ethnicities and cultures. In our rural Central NY demographic of almost 94% white, this is a tremendous benefit. Our local colleges also provide a number of social and cultural activities and events to the community each year – including speaker series, arts, music and sports events along with higher education opportunities for local residents. 
Philanthropic Benefits:
Both SUNY Oneonta and Hartwick College serve our local businesses and non-profit organizations through low-cost internships and volunteer programs, providing support services and possible entry into careers that enable students opportunities to remain in the area after they graduate. Some students will contribute financially to their college as well as to other organizations that they became familiar with while at school. Our local colleges also extend their services and facilities to local partners as a host location for meetings, conferences, and other events.  
At OneontaStudents.com, we celebrate the fall season and the return of students to Oneonta – for all of the benefits that come to our region as a result of having these colleges in our local area.  For information about Oneonta Student Rentals and our available properties close to SUNY Oneonta and Hartwick College, please visit https://oneontastudents.com/houses-and-apartments/ or call us at 607-434-5438.  You can also view 3D Virtual Tours of many of our rentals at https://oneontastudents.com/3d-tours/.